10 Quotes That Help a Musician Realize the Value of Time
Probably not many of us have the time to search through all the places on the web to find few smart and useful quotes among thousands of boring and useless ones. Since we know that most of us are struggling with time management, here are some quotes that help you to remember and appreciate the value of your time:
1. "The ultimate inspiration is the deadline."
(Nolan Bushnell)
2. "Don't be fooled by the calendar. There are only as many days in the year as you make use of. One man gets only a week's value out of a year while another man gets a full year's value out of a week."
(Charles Richards)
3. "They always say time changes things, but you actually have to change them yourself."
(Andy Warhol)
4. "The surest way to be late is to have plenty of time."
(Leo Kennedy)
5. "Being rich is having money. Being wealthy is having time."
(Margaret Bonnano)
6. "You may as well borrow a person's money as his time."
(Horace Mann)
7. "What may be done at any time will be done at no time."
(Scottish Proverb)
8. "Time is more valuable than money, you can get more money, but you can not get more time."
(Jim Rohn)
9. "Those who make the worst of their time most complain about its shortness."
(La Bruyere)
10. "If it weren't for the last minute, a lot of things wouldn't get done."
(Michael S. Traylor)
After you are finished reading those quotes, and thinking:
"I am definitely going to take a course on time management… just as soon as I can work it into my schedule." (Louis E. Boone)
-start working on it n o w !
If you have other reasonable and smart quotes about time management, time value or definition of time, please share them in our comment section.
How to Make a Low-Budget Music Video
You as a musician have surely thought about making a video that is successful in every way – it has the fame, the flash, the coolness and of course people will remember it and experience your vision as well as your music. All of this is achievable, but let's be honest, all of us do not have the money to produce a real famous and effective music video. That is why we have collected together 10 most important instructions how to make a low-budget music video.
Choose the Right Crew
If it is possible, use people you are close to (friends, family). These are the people you can trust the most and they will probably help without asking you for money.
Make sure that the people you hire are always on time, so you don't have to worry about their attendance. Their absence could also cost you a lot.
It is important to use a small amount of people – it is easier to travel around and there are less people you have to pay for.
You could also find people who are volunteers. These kinds of people want to gain experiences. They work for less and at the same time they give the most effort.
Choose the Right Equipment
Make use of cheaper lighting resources such as natural light if it is possible.
Try to find different package deals. There are some private parties who own their own lighting and generator equipment. This will be much cheaper.
In some cases, buying your own equipment is going to be cheaper than paying for rental costs. If you are going to use such an item over and over again, it may be useful to buy it, so you can use it in the future. Before making this purchase it is important to educate yourself on which video camera will be the best for you.
If you don't have the budget to hire someone to do the job, and if you're not very creative at directing a video, you can find the help of a film student, who might work for free in order to gain good experience.
Choose the Right Place
Always look for several places instead of being stuck with just one. You might have forgotten that your friend or a relative may have access to a property that you could use.
Try to find a place, which is quiet and private.
The location you have chosen should require a minimal permit expense, or if possible, is for free.
If you are able to keep your group small, the permit fees are not that expensive. It´s definitely not good to get caught with having no permit. This could cost you more than you can think of.
Parks are also a great choice, as they have a lot of space and also you don't have to pay for the space you are going to use.
Try to prevent complicated sets. It may seem impossible at first, but you have to remember that they are too expensive and most of the time, keeping it easy and clear can be the key to success.
Star(s) Of the Video
Do your own casting.
Ask the talents to use their own clothes. It saves you money and also some time.
If you need new items or clothes, it´s better to rent them. If you decide to rent something, be careful not to harm them.
Try to prevent costly agency fees. You can find people for your video from the Internet.
Keep in mind that sometimes people who work for little money give much more effort. They appreciate experiences that you are willing to give, and on the other hand, you can save some money.
Post and Editing
While others use professional programs like Avid or Premier, you can use simple freeware software. Or use the one that already exists on your computer, for example Windows Movie Maker or iMovie.
To cut costs rent a video camera or buy it used from eBay.
Promotion
Try to make promoting your video a group effort. Get your friends and family to share the video in different social networks such as Facebook or Twitter. Make sure you put a short plan together. You need to set a certain length of time, because often the promotion activity lasts for too short periods of time.
There are also the possibilities to use free press release services and also use your contacts to help you with that.
Even if you have a small budget, you can get different websites to post your video for a small fee. This small investment is worth it.
Also, make a list of the blogs you would like to get your video on, and send them the video.
Try to think outside the box. There are many creative ways how to promote your video online.
Use Your Creativity
There are no limits on creativity. Instead of using a lot of money, use a lot of creativity. Use everything that you can find around your house.
Again, the key point is to keep it simple. You don't need to spend a lot on different props and art directions.
You can always borrow stuff.
You can make your own special effect smoke and lighting. Just use your imagination.
Other Useful Tips
Research your ideas thoroughly before accomplishing them, because there are always other ways to get your equipment, shooting place or crew with less money.
The more you learn, the more you see how many possibilities there are.
By educating yourself you improve your options as a Director.
Editing and composing a video does not take long, if you have learned the basics.
You don't need people to do different small things – do them yourself.
Always watch out for hidden costs (setup time, overtime, equipment fees etc).
You have to realize when it is appropriate to cut the corners.
Sometimes cutting the corners can cost you even more.
And finally, Charles Mingus once said: "Creativity is more than just being different. Anybody can plan weird; that´s easy. What's hard is to be simple as Bach. Making the simple, awesomely simple, that's creativity."
If you have other important tips to add, please leave a response in the comment section below.
10 Ideas For Your Next Album cover
"Dude, what the hell are we going to put on our album cover?" This is a question every decent band must answer when coming out with a new album. Obviously this is a hard task, because there are about 200 000 different options of what you can do with your album cover: starting from design, typography, color, pictures, retouching, to the shape and material of your album.
Your album cover reflects you as a band, so it would be logical to take it from there. Let's try this: I'll show you an album cover of an Estonian band called Ewert And The Two Dragons. Maybe you've heard of them, but probably you haven't. Look at their album Good Man Down and guess what kind of music do they play: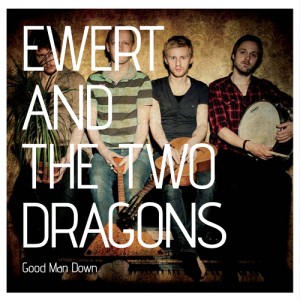 So, what do you think? Dubstep – no. Hard Rock – no. Indie/Folk – yes. You probably guessed that they play some sort of Indie Rock, which is what they were aiming for.
Sometimes you can get away with going the opposite way and putting something completely irrelevant on your album. If you're going to take that route, please make sure your fans get it – or else you're just going to alienate your fan base.
But now let me give you 10 ideas for your next album cover.
1. The Your Face Album Cover
You guessed it. This involves a photo of you in any decent position. This method is the most common among solo artists, so if you like vanity make sure you stand out and do something a bit different with your photos.
2. The Your Band Album Cover
Again, the same approach. Tested many times. Works! Especially if you are a good looking boyband or iconic glam artist.
3. The Less is more Album Cover
I know it's a cliché. And saying it's a cliché, sounds cliché. And maybe I'm being cliché, but anyway, you can try taking a minimalist approach with your album cover. What's that? Is it a ghost, is it a bird? No – it's the album cover of Linkin Park's A Thousand Suns.
4. The Literal Album Cover
"I have a great idea! Our album is called The Blue Album, so let's make it blue!" And that's what Weezer did. Can you guess what's on Maroon 5's album titled Hands All Over? I'll give you a hint – it's got something to do with hands.
If your album has a cool title, maybe this is the approach you want to take.
5. The Abstract Album Cover
This is the opposite of a literal album cover. An abstract album cover should grab your attention just by looking at it. Typically this type of album is very colorful and artsy. You can come up with awesome abstract album ideas when you're drunk and when you have smoked something a bit too much.
6. The Fantasy Album cover
Fantasy album covers make me think of fairy tales and monsters. Typically that's also what they're about. Meatloaf's album Bat out of Hell II features a prone rider on a flying motorcycle next to a giant bat in a graveyard. If you're music goes along with a fantasy world why not try this method as your next album cover.
7. The Sexy Album Cover
Sex sells and I'm not going to talk about why it works. I'm just going to show you examples of  sexy album covers. You're welcome.
8. The Funny/Clever Album Cover
You like fun, I like fun, everybody likes fun. So sometimes it's justified to use humour on your album cover. Some artists are even funny without trying to be so.
9. The Go Wild Album Cover
Some album covers are just too wild to categorize them. Or what do you think?
10. The Epic Album Cover
There are a couple of album covers that are exactly that – epic. There isn't exactly a formula for creating an epic album cover, but don't let that get you down.
Conclusion
Try to be original with your album cover and do something a bit different. Start by thinking what reflects you as a band and take it from there. I hope this post gave you at least couple of ideas for your next album cover.
What are your favorite album covers? Leave a response in the comment section below.
10 comics only musicians understand
What's the difference between a fiddle and a violin? Who cares – neither one's a guitar.
Musicians are people who always enjoy a good laugh. That's why we've collected 10 comics only musicians will understand to lighten up your day. Check out these comics and let us know what you think! Here we go:
Priorities
http://portermason.com/bassistwanted/files/2005/10/00059-AmbMen_HWord-960×302.png
Self-Published
http://portermason.com/bassistwanted/files/2009/02/Execs_SelfPublished-960×301.png
Bonnaroo 2009 Poster
http://gigdoggy.files.wordpress.com/2009/02/bassistwanted-3.jpg
Teaching a Rock Star to Twitter
http://portermason.com/bassistwanted/files/2005/10/00059-AmbMen_HWord-960×302.png
Downloader
http://mattbrennan.ca/img/downloading%20comic.jpg
The Honest DJ
http://portermason.com/bassistwanted/files/2005/01/00006-Fans_HonestDJ-960×300.png
No Support In The Community
http://portermason.com/bassistwanted/files/2005/03/00012-AmbMen_OtherBandsSuck-960×300.png
Describing Your Sound
http://portermason.com/bassistwanted/files/2005/03/00015-AmbMen_BigBand-960×300.png
We Need More Gigs
http://portermason.com/bassistwanted/files/2005/04/00019-AmbMen_Gigs-960×300.png
Contract Fine Print
http://portermason.com/bassistwanted/files/2005/09/00039-Execs_Contract-960×308.png
Most of the comics are taken from http://bassistwanted.com by Porter Mason. Other comics were lying around in the web and their copyright belongs to their rightful owners.
If you know any other good musician comics or jokes, let us know!
10 Books every musician should read
As a musician it's not enough that you know how to play an instrument. You need to have at least some idea of the music industry in general, know how to get over creative blocks and how to manage your career and band. Few musicians can be successful without knowing at least the basics of these areas and that's why we've compiled this list of 10 books every musician should read.
We've broken it down into 3 parts:
Music Industry
Songwriting & Creativity
Business and Career
Keep an open mind and don't be a person who thinks that he knows everything and doesn't need to read books in order to be successful. I guarantee that these books will make you more productive, make you more money, help you sell your music, and become a better person in general. So let's begin.

Music Industry
Donald S. Passman's book will provide you with a comprehensive overview of the music industry. There are a lot of easy to understand examples presented in a humorous way, so it will keep you interested throughout the book.
"Should be required reading for anyone planning or enduring a career in the biz." — Rolling Stone

"Any creative person who's considering working in the music business should read this book." — Jimmy Lovine, chairman, Interscope Geffen A&M Records

"I highly recommend this book to anyone with an interest in the music business." — David Geffen
Read more and buy it on Amazon.com
This book is a must-read if you're 100% serious about working in the music industry and making a living with your music. It's thoroughly educational and gives you plenty of insight you didn't have before. Read this book so you won't be caught in the jaws of the music industry.
Read more and buy it on Amazon.com
Randall D. Wixen's book gives you valuable information about music publishing industry. From songwriters to music executives this book will teach you the basics about protecting and profiting from music copyrights.
Read more and buy it on Amazon.com
The Indie Band Survival Guide: The Complete Manual for the Do-It-Yourself Musician If you looking for a real way to get your music in front of people and profiting from it – this bobooksok is for you. It will teach you how to record, distribute, market and sell your music in the cheapest and most efficient way possible.
"Finally! A comprehensive and practical guide for musicians that explains how to navigate today's music world without a label. A must-read!"—Derek Sivers, founder of CD Baby and HostBaby

"If they gave out Grammys for music career books, Randy and Jason should surely win one. Their Indie Band Survival Guide is a must-read resource for any musician wanting to take the independent path to success—which, these days, is the only way to go. Networking, branding, Internet promotion, live gigs, distribution, publicity … they cover it all. Highly recommended!"—Bob Baker, author of Guerrilla Music Marketing Handbook and founder of TheBuzzFactor.com
Read more and buy it on Amazon.com
Songwriting and Creativity
This may well be the bible of hit songwriting. It will give you techniques and tricks to put your songwriting on steroids. These include:
38 proven strategies for creating powerful, unforgettable lyrics
30 simple ways to make your melody fresh, exciting and memorable
"For people serious about writing great songs, it's got it all!" —Kara DioGuardi, BMI "Songwriter of the Year," American Idol judge
"Should be in every songwriter's arsenal." —Jason Blume, author, hit songwriter with more than 50 million album sales
Read more and buy it on Amazon.com
From basics to more advanced techniques, Writing Better Lyrics has been a go-to book for many musicians for over two decades. No matter what's missing from your lyric writing arsenal – this book has it all.
Read more and buy it on Amazon.com
This book combines research with Gerald Klickstein's 30 years of professional experience on how musicians can achieve artistic excellence. The Musician's Way covers everything from the basics to advanced and very practical instrument-specific advice you wouldn't find anywhere else.
"Engaging and well-written and a valuable resource for every performer seeking to develop their craft and maintain career longevity." –Psychology of Music

"Provides a wealth of information that would otherwise take years to accrue." –British Journal of Music Education
Read more and buy it on Amazon.com
Business and Career
This book is all about consumer-led product creation and content selection. It gives you examples how Netflix, Google, American Idol, Wikipedia and others are using this method for their benefit and how you can do the same.
"An informed and enthusiastic guide to the new collaborative creativity." —Times (London)

"A welcome and well-written corporate playbook for confusing times." —BusinessWeek
Read more and buy it on Amazon.com
This book will change your life. It teaches you how to free yourself from 9 to 5 work environment and how to start thinking like someone from the digital age.
"It's about time this book was written. It is a long-overdue manifesto for the mobile lifestyle, and Tim Ferriss is the ideal ambassador. This will be huge." —Jack Canfield, Co-creator of Chicken Soup for the Soul®, 100+ million copies sold

"This is a whole new ball game. Highly recommended." —Dr. Stewart D. Friedman, Director of the Work/Life Integration Project, The Wharton School
Read more and buy it on Amazon.com
This book will open your eyes to the potential of internet marketing. It will give you clear and concise techniques on how you can market your band online. It's written in a fun and conversational way to make it an easy-read.
"You're not supposed to be able to do what David Meerman Scott is about to tell you in this book!"—Robert Scoble, coauthor of Naked Conversations, Scobleizer.com

"This excellent look at the basics of new-millennial marketing should find use in the hands of any serious PR professional making the transition."—Publishers Weekly (starred review)
Read more and buy it on Amazon.com
These are our favorite books all musicians should read. What books do you recommend to your fellow musicians? Leave a response in the comment section below.
Gig Checklist Blueprint
Checklists are awesome. Checklists help you to be on top of things. You can see exactly what you need and what you already have done. By using checklists you won't forget any equipment for gigs ever again.
We've compiled a list of equipment and other stuff you should have with you on any major gig.
This is a pretty advanced checklist, meaning that for smaller gigs you don't need all these things, but it doesn't hurt to be prepared.
If you notice that something is missing from this list, shout it out in the comment section!


Advanced Gig Checklist
Guitar/Bass
Main guitar
Backup guitar

Amp(s)

Cabinet(s)

Pedals + boards

Tuners

Picks

Pick holders

Slides

Capo

Instrument cables

AC cables

Extra Strings

Extra tubes

Extra batteries

Extra fuses

Stand

Rack
Drums
Snare + stand

Cymbals

Kick drum + pedal

High hat + pedal

Sticks

Toms (count each)

Drum throne/stool

Throw rug
Sound system
Mics

Mixer

Stands

Mic cords

Speaker cords

P.A. speakers

Rack

Snake

Power strips

Extension cords

Adapter with a ground
Merchandise
Show and Stage
Set lists

Banners

Props

Directions

Contact information
Maintenance
Small flashlight

Screwdriver

Pliers

Wrench

String winder

String cutter

Gaffing tape

Masking tape
Misc.


That's one big list! But we guarantee it will save your life someday. So start using it.